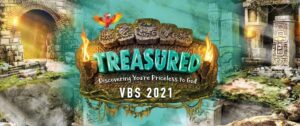 Dear Parents,
We are back in person! Come discover God's love on this VBS adventure!
Join our quest to discover God's epic love for us at Treasured VBS! On this faith-filled adventure, kids between 5 &11 years old discover that trusting Jesus pulls them through life's ups and downs.
So mark these dates on your calendar: July 12-16

(Monday to Friday)

. It will be held in-person at First Philippine Baptist Church! The fun

starts at 10:00 am

and will

end at 1 pm

each day.
When: July 12-16, 2021 (Graduation July 18 during 10am service)
Time: 10am-1pm
Where: First Philippine Baptist Church (15002 Hillcroft St, Missouri City, TX77489)
For more information, please contact Lauren Kay De La Calzada at laurencalzada375@gmail.com or call (713) 534 2681. Or click the button below to register online now!
Sincerely,
Lauren Kay De La Calzada
Your Treasured VBS Director
Interested in volunteering for Treasured VBS? We need you to help this quest come to life! Contact our VBS Director, Lauren Kay De La Calzada, for more information. You must atleast 12 years old to volunteer.
Meet our Day 1 Bible Buddy at Treasured VBS!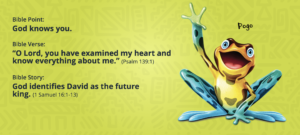 What Moms, Dads & Participants Had To Say About Joining The VBS…
"As one of the first-time attendees for First Philippine Baptist Church VBS, I can not be more pleased with VBS. All three of my children loved it and came home singing all of the songs they sang. They came home everyday explaining to me what they learned that day and they could not wait to go back the following day. Since VBS my children have been actively going to church and enjoy going to church every Sunday and love being involved in church activities and I cannot be anymore pleased that they enjoy it. They can not wait for next year's VBS @FPBC!" – Priscilla Zapata, mom of Anayah (5 y.o.), Kalista (8 y.o.) and Devante (9 y.o.)
"Thanks! This is her first VBS and she is very excited about it. So far she is having a good time. Thanks to all of you!" – Mylene Adrias, mom of Chloe (5 y.o.)
"I know Jesus loves me because He's been with me my whole entire life ever since I was born. He's been with every single person. My favorite parts of the VBS were the KidVid Cinema and Untamed Games!" – Trevor Smith, (10 y.o.) VBS participant "They came home singing the songs & sharing what they learned – thanks! They are enjoying themselves!" – Melissa DeBose, mom of Carmelo (9 y.o.), Saniyah (7 y.o.) and Jaibreaun (9 y.o.)
"I know Jesus loves me because He's given me all the super cool stuff….What I learned in VBS today is that no matter what, Jesus loves you!" – Nikolas Rustrian, (10 y.o.) VBS participant
Click The Button Below to Register Your
Children for this Life-Changing Adventure!

More VBS Parent Testimonies …
"My children learned a lot from joining the VBS. It helped improved their ability to interact with fellow children, boost their confidence and the most important is that they learn a lot about how good Jesus Christ is!" – Ian Tan, dad of Jared (9 y.o.) & Jaiden (3 y.o.)
"Maddie had a great time at VBS. She made friends and learned about Jesus' love and promises. She also had wonderful crew leaders who took great care of her. She can't wait to attend VBS again next year!" – Tracy Daguitera, mom of Maddie (pre-school VBS)
"Our son was very blessed to be with friends in VBS and sharing his testimony with the church. He benefited from the experience of being under a group leader – that was good training for him!" – Ivy Hefner, mom of Luke (7 y.o.)
"My daughter really enjoyed Glacier Games. She also enjoyed Imagination Station because she was able to take "cool" stuff home. She also really enjoyed the Bible stories and being able understand the lessons it teaches!" – Lindley Manalo, dad of Emma (9 y.o.)
"Hannah is and was inspired in all DVBS sessions here at FPBC. She loves to sing all the songs. She rehearsed all of them weeks before and we are inspired with that as parents. We love the excitement, dedication and devotion Hannah shows for all she does. It is an inspiration for us to do the same in serving God!"
– Myrl Escuban, mom of Hannah (11 y.o.)
"Both my kids Kaylani (age 8) and Mekhi (age 6) loved it! They had a blast and learned so much about how important it is to keep Jesus first in their lives and to "Follow Him!!!" They are quoting things they learned well after VBS graduation. Thank you for making them feel so at home at a Church they had never been to before!. Thank you for everything!"
– Vinitha George, mom of Kaylani (8) & Mekhi (6)
"…After the second day she was telling me about Jesus and how he walked on water. She loved the dances and songs she learned throughout the week and still dances and sings them to this day. VBS made a huge impact on her this year and I'm sure she'll love to attend again next year."
– Charmine Pflueger, mom of Charlotte
"My kids absolutely loved it! They have learned so much about the love of Jesus. They memorized their memory verses, sang all the songs and made many friends! We loved the "Talking/prayer points" where we, as parents learned what they have gone over to reiterate the stories, memory verses, and the focus on each day. My kids especially enjoyed the activities, games, the singing and dancing! I would highly recommend attending VBS at FPBC to other parents!"
– AJ Flora, mom of Natalie (9) & Aiden (6)

Sincerely,
Lauren Kay De La Calzada
Your Treasured VBS Director